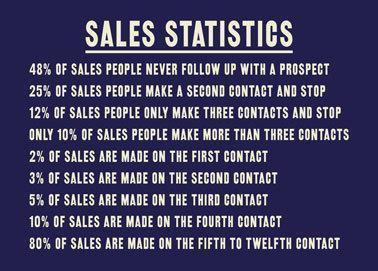 Someone on Linkedin shared this stat with me last Friday regarding sales and their follow up. I was completely shocked! Makes me question a few things…
Makes me question a few things…
Are organizations just not teaching sales how to follow up?
Are companies so boggled down with deals they have no time to follow up after 3 attempts?
Are companies so engrained in processes to win a deal quickly they move on too fast?
If we know follow up is key why aren't we doing it?
Do you have processes in your CRM to "touch" your leads every so often?
Do you believe these results? What does your organization do to prevent these statistics from getting out of hand?
By: Sarah Battiste