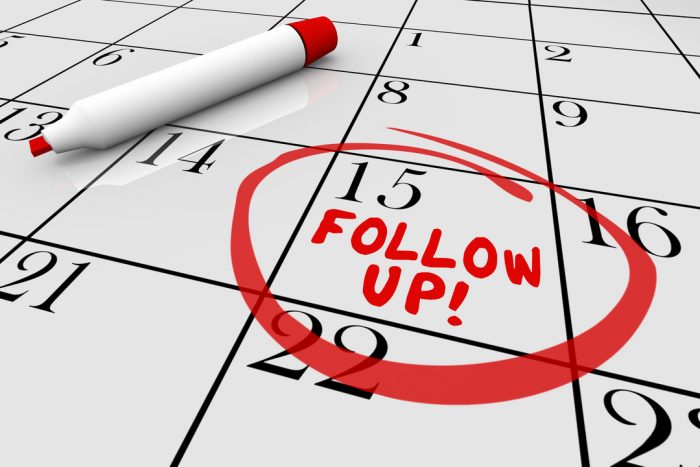 One of the foundational steps to being successful in your follow up is to have the proper mindset. To help you get the proper mindset, click here.
On a scale of 1 to 10, 1 being "not so good" and 10 being "I've got this!", how are you doing on your follow up? It may sound harsh, but it does you no good to be out networking and meeting new professionals if you are not going to follow up with anyone–you are wasting your time!
Here's the good news! No matter how you have done managing your follow up, you can begin being more efficient at it today. It's never too late to begin.
Once you are prepared to succeed at follow up, here are some practical follow up tips to help you:
Set up a follow up system and stick to it. Is your goal to make 20 new touches a day? Are you committing to reach out to everyone you met networking last week? Do you plan on meeting one-on-one with a new professional each week? Whatever your plan is, you must commit and not waiver.
Build your list by using a great CRM. There are great customer retention management systems out there. Pick one and use it. There's Aweber, MailChimp, and Infusionsoft, just to name a few. If technology isn't your thing, take a class or hire someone to help you implement using your CRM. This aspect of follow up is too important not to follow through.
Be organized. You've got to have your act together. Period. Keep (better) track of business cards you collect. Keep better notes of new connections you make online.
Manage your data. Enter and update your contacts. Keep a calendar. Use a planner.
Ask for help you need it. Maybe it's time to bring on a Virtual Assistant to help with day to day tasks or a Strategy Coach to help you set up the best systems.
Ask Yourself:
What steps do you need to implement to be more effective with your follow up? What can you accomplish today to begin?
Terilee Harrison helps entrepreneurs get referrals, clients, and leads using proven offline and online marketing strategies. Book your referral strategy session here.